Tobacco-related and cervical cancers are important causes of death among working-age people in India
A new study has found that nearly 600 000 Indians die every year from cancer, with 70% of those deaths occurring between the ages of 30-69 years.
The study, led by the Centre for Global Health Research, and in close collaboration with Tata Memorial Hospital, is the first to provide a reliable total number of cancer deaths in rural and urban India. Previous estimates have relied on data from cancer registries, which are mainly located in urban areas, and are not representative of the 70% of Indians who live in rural areas.
The most common cancer in men was oral cancer, followed by stomach and lung cancers. In women, the leading cancers were cervical, breast, and stomach. The burden from cancers caused by tobacco use was alarmingly high, contributing to almost 120,000 deaths in 2010, and was responsible for over 40% of male, and nearly 20% of female cancers.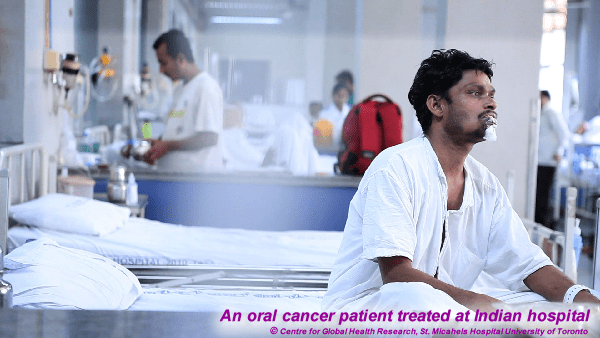 Cancer is an important cause of mortality in India, and equally affects both rural and urban areas. Cancer is also a significant burden in poor and uneducated, as illiterate adults had twice the risk of dying from cancer as the most educated ones. Large differences in cancer mortality rates between states, as well as large numbers of deaths from tobacco and infection-related cancers, indicate that the majority of cancer deaths can be avoided.
Read the full article here: Cancer mortality in India: a nationally representative survey
The Lancet Article (PDF)
The Lancet Webappendix (PDF)
Frequently Asked Questions (PDF)
Powerpoint Slides (PPT)
The Lancet Press Release
English (PDF)
Hindi (PDF)
Video News Release
Images for Media
Download (2.0mb Zip Archive)
Media
Professor Jha's interview with Radio Australia on strategies to reduce cancer deaths in India. Listen here.
Dr P.C. Gupta discusses the Indian Government's investment in tobacco companies. Watch here (Hindi).